Trimming and reinforcement profiles
We produce standard and atypical profiles from steel sheets with thicknesses of 0.40 mm - 4.00 mm, including punching of all possible shapes according to your requirements.
Send us a drawing or draw your requirement and quantity of pieces - we will inform you of the price of the product immediately.

Cutting and formatting
Straight sheets are cut and formatted on TRUMPF CNC hydraulic plate shears.
TRUMPF TrumaCut T670
Cutting length
7,500 mm
Minimum sheet thickness
0.40 mm
Maximum sheet thicknesses
(tensile strength up to 450/mm2)
Galvanized sheets up to 4.00 mm thickness
Cold-rolled and hot-rolled black sheets up to 4.00 mm thickness
Stainless steel sheets up to 2.00 mm thickness
Aluminum sheets up to 4.00 mm thickness
Precision cutting is ensured by CNC automatic adjustment of the cutting length and clearance
Pneumatic support of clippings prevents sheet sagging
Hydraulic clamps ensure complete sheet fixation during cutting without material deformation
Possibility of individual and continuous cutting as well as cutting on the line
Bending
We bend on two hydraulic CNC bending presses: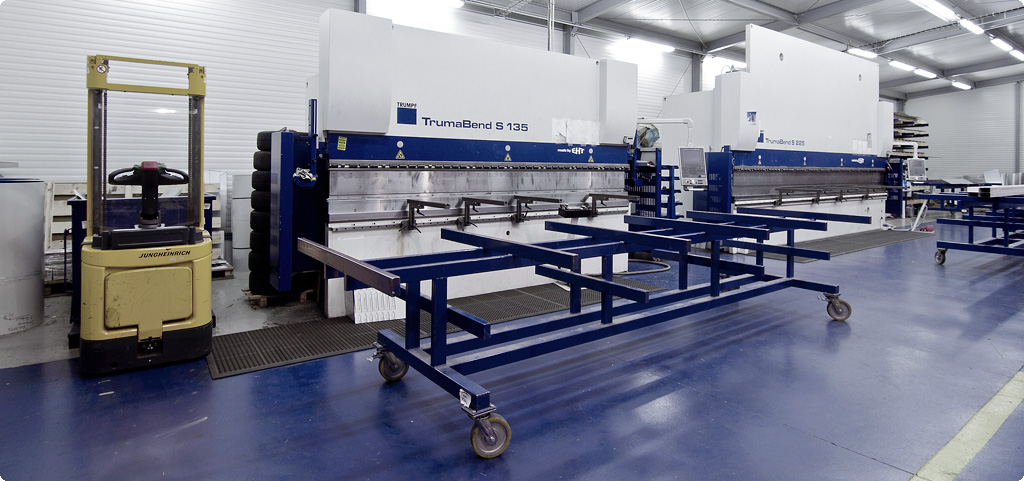 TrumaBend S 255-65
TrumaBend S 135-40
Pressing force:
2,250 kN
1,350 kN
Stroke:
400 mm
250 mm
Bending length:
6,500 mm
4,000 mm
Maximum thickness of bent sheet: stainless steel: 2.00 mm, steel, aluminum: 4.00 mm
CNC bombarding allowing elimination of ram deflection depending on pressing force ensures consistent bending angle throughout the entire bending length
Special tool for folding reinforcement of sheet edge in edge trimming profiles
Self-centering exchangeable divided tools for bending from TRUMPF - laser-hardened working surface (62-63 HRC) ensures high-quality bending accuracy and repeatability for sheets from 0.50 mm to 4.00 mm thickness
Special tool for reinforcing sheet edge up to 1.5 mm thickness
Special tools for closed bends up to a height of 60 mm
Punching
Materials up to a length of 6500 mm are punched with a set of tools of various shapes on a Trumpf TruPunch 5000:
We produce standard and atypical profiles to your specifications
Roof flashing and reinforcement elements for trapezoidal sheets and sandwich panels
ridge elements
expansion joints
skylight flashings
self-supporting and non-self-supporting skylight frames and subsets
roof wall connections
gable flashings
attic flashings
corner flashings
Trough and gutter flashings
chimney flashing
wall flashings
bent snow barriers
thin-walled replacements for roof openings and skylight subsets
plumbing elements for tile roofing and pergolas
plumbing elements made of plastic-coated or titanium zinc sheet for edging roof edges, gutters, etc.
profiles for folded roof sheathing
edging of corners and corners
transition cover strips for horizontal and vertical panel joints
connection of the wall to neighbouring buildings
baseboard (foundation) profiles and baseboard flashings
spacers, grid elements for folded, ventilated and insulated facades
special flashings for corrugated façade sheets
Reinforcement profiles for wall openings, window, door, gate and mounting holes
replacements for rolled profiles
advertising billboards and containers
profiles for fences and gates
profiles for engineering
Material for production
We use painted, galvanized steel sheets for production:
the visible side is coated with a polyester spray with a thickness of 25 microns or 15 microns; we typically supply it with a removable protective film.
the reverse side has a protective lacquer of 7-10 microns.
Color and Thickness Combinations - Width 1,250 mm:
| | | |
| --- | --- | --- |
| Color | Color Name | Thicknesses |
| S320GD+Z275 | Zinc Z275 | 0.50 mm; 0.63 mm; 0.75 mm; 0.88 mm; 1.00 mm; 1.25 mm; 1.50 mm; 2.00 mm |
| RAL 9002 | Greywhite | 0.50 mm; 0.63 mm; 0.75 mm; 0.88 mm; 1.00 mm |
| RAL 9002/9002 | Greywhite both sides | 0.75 mm |
| RAL 9010 | White | 0.63 mm; 0.75 mm |
| RAL 3009 | Reddish-brown | 0.50 mm; 0.63 mm; 0.75 mm |
| RAL 9006 | White aluminum | 0.63 mm; 0.75 mm; 0.88 mm |
| RAL 9007 | Grey aluminum | 0.75 mm |
| RAL 7035 | Light grey | 0.75 mm |
| RAL 6011 | Reseda green | 0.75 mm |
| RAL 5010 | Gentian blue | 0.75 mm |
| RAL 3000 | Fiery red | 0.75 mm |
| RAL 1015 | Elephant ivory | 0.75 mm |
| RAL 7016 | Anthracite | 0.75 mm |
Color and Thickness Combinations - Width 1,500 mm:
| | | |
| --- | --- | --- |
| Color | Color Name | Thickness |
| S320GD+Z275 | Galvanized Z275 | 1.50 mm |
| 25 my RAL 9002 | Gray-white | 0.75 mm |
| 15my RAL 902 | Gray-white | 0.75 mm; 0.88 mm; 1.00 mm; 1.13 mm 1.25 mm; 1.50 mm; |
| 15my RAL 901 | Gray-white | 0.75 mm; 0.88 mm; 1.00 mm; 1.13 mm 1.25 mm; 1.50 mm; |
Galvanized Steel Sheets Width 1,250 / 1,500 mm:
| | | | |
| --- | --- | --- | --- |
| Color | Color Name | Thickness | Max. Length |
| S320GD+Z275 | Galvanized Z275 | 3.00 mm; 4.00 mm | 6,500 mm |